SORRY SHE IS SOLD
This particular vessel is no longer available HOWEVER we have other similar vessels that may suit your needs. Please fill up the contact form and tell us what you require and we will do our best to find your ship!
Landing Craft Reference Code: NLT#755
Vessel Type: Landing Craft Suitable for Carrying
Heavy Cargoes General Data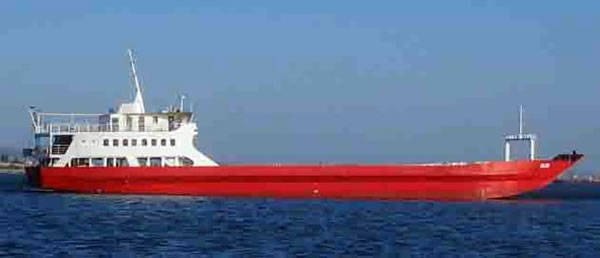 Main Engines:
Lister Blackstone ESS6 2 x 600hp @ 900rpm
Service record:
Port side engine: 2000 hours — need to be overhauled
Starboard side engine:
450 hours — completely overhauled 1.5 months ago
Gensets:
Mercedes 346 1 x 45kw & Mercedes 352 1 x 60kw
Service record:
Port side generator: 0 hours as just overhauled
Starboard side generator:
3500 hours — needs to be overhauled
Axle strength:
5 mt per axle
Diesel oil capacity:
95 tons
Diesel oil service:
0.70 mt
Sewage tank capacity:
2.16 mt
Grey water: No specific tank, but there are many tanks onboard – there are 17 individual ballast tanks distributed to port, starboard and central line of the ship
Fuel tank capacity:
93 mt
F W tank capacity:
16 tons
ACCOMMODATION & CARGO CAPACITY
Crew cabins:
2 x 2 berths and 2 x 1 berth.
Navaids:
MC Murdo SART, 2 x MC Murdo EPIRB, AIS, VHF+DSC, VHF, 3 x GMDSS VHF,MC Murdo Navtex, Furuno GPS, Koden radar
Service boat:
1 piece for 6 persons
Life raft:
1 piece for 10 people
Immersion suits:
8 pieces
Thermal protective aids:
2 pieces
Line throwing rockets:
1 piece
Portable fire pump:
1 piece
Portable fire extinguisher:
24 pieces
All details are given in good faith but without guarantee.
Please Contact Us for serious inquiries.