SORRY SHE IS SOLD
This particular vessel is no longer available HOWEVER we have other similar vessels that may suit your needs. Please fill up the contact form and tell us what you require and we will do our best to find your ship!
Vessel Reference Code: MWS#484/5
Vessel Type: Landing Craft
Sub Type: Deck Cargo Carrier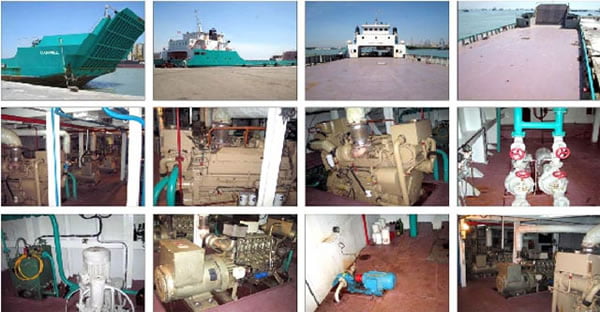 Accommodation:
12 Persons
Breadth:
13.50 m (44.29) Ft.
Max Loaded Draft:
2.63 m (8.63) Ft
Main Engines:
2 x Cummins KTA 19-M640 640 BHP EACH @ 1,650 RPM
Auxiliary Engines:
2 x MP-H-64-4 MWM out put 128 kW Total producing 380V/ 220V AC, 50 Hz
Fuel Oil Tanks:
2 x 55.00 Cub m + 2 x 95.20 Cub m Total 300.40 Cub m
Fresh water:
2 x 12.00 Cub m + 2 x 15 Cub m Total 54.00 Cub m
Anchors:
Fore 2 x 800 Kg + Aft 1 x 600 Kg
Navigational Equipment:
1 Furono 1721 Mark 2 24 Miles
Life Saving Equipment: 1 x Rescue Boat with Johnson 15 HP Outboard 2 x Life Rafts for 15 persons each, 12 pcs Life Jackets + 8 pcs Life Buoys
Vessel is ready for immediate inspection and delivery!
All details given in good faith BWG.
Price: Contact