SORRY SHE IS SOLD
This particular vessel is no longer available HOWEVER we have other similar vessels that may suit your needs. Please fill up the contact form and tell us what you require and we will do our best to find your ship!
Vessel Reference Code: NDF#773
Vessel Type: Landing Craft
Sub Type: Double Ended Landing Craft — Car - Truck — Passenger Ferry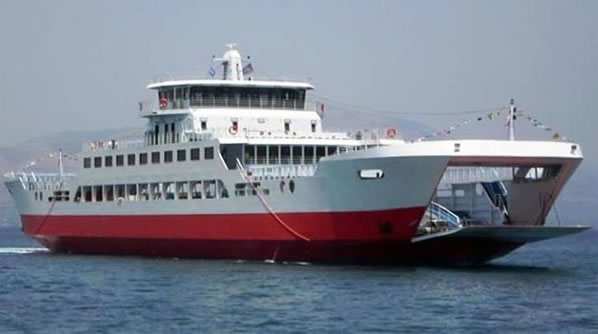 Dimensions:
97.85m x 16m x 2.66m draft
Gross/Net:
994.55tons / 634.64tons
Height of main deck (clear space):
5.15m
Ramps:
Bow and stern - 9m width
Class:
Hellenic Merchant Ship's Inspectorate
Main engines:
Caterpillar 3412 E - 4 x 730hp
Gensets:
Caterpillar 107kva x 2 + 165kva
Passengers:
600 pax, but with other certificates can carry 1930 pax
Car capacity:
210 European type cars, or 24 trucks x 12m and European type cars in remaining lane space
Garage:
Main and below deck (for 52 cars)
Nav Aids: Full modern navaids including full automatic controls by computer for engine from bridge, a/pilot etc
Safety gear:
Full safety gear including fire detectors
Cabins:
6 crew cabins: 2 x 4 berth, 2 x 2 berth, 2 x single berth
WCs:
6 on saloon deck, 2 on upper deck, 1 for crew
Vessel ready for immediate inspection and delivery.
Price: Contact
All details give in good faith BWG.