Vessel Reference Code: JHLC#785
Vessel Type: Landing Craft - Cargo, truck, Car Carrier
Landing Craft - Cargo, truck, Car Carrier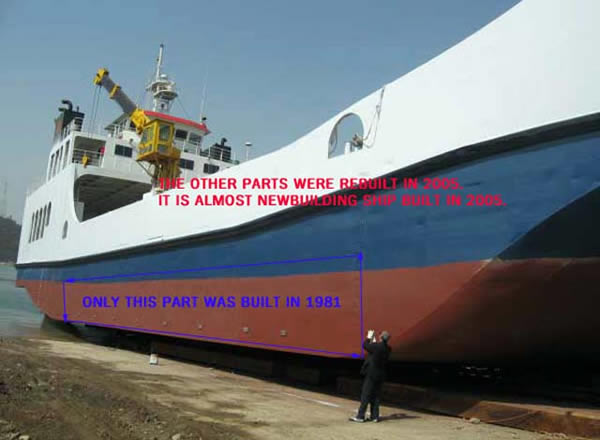 Part of the structure is a barge from 1981
Height of Garage Clearance:
4.5 m
Main Engines:
Three MITSUBISHI DS6R2-MTK2 950PS/1400RPM
Service Speed:
10-11 knots
Fuel Consumption:
65 L Per Hour Each Engine
Auxiliary Engines:
Two Deawoo AD 136T
Fuel tank capacity:
30,000 liters
Fresh Water tank capacity:
30 tons
Cargo Holds:
Two each Port and Starboard 4 Total
Car Capacity:
45 or 22 x 5 Ton Trucks
Last Dry-Docking survey:
2009
Navigational Equipment:
Full As Per Class
This is Masterful Barge Conversion done in 2005.
Using a 1981 built barge as part of the structure the entire vessel was built to Class as a Triple Screw Landing Craft Cargo Ship with a 10 Ton Deck Crane, Bow Ramp and Four Large Open Cargo Holds, making it a very Rare Landing Craft Cargo Ship! The blue color in the dry dock photo is the only part from the original barge all the rest is new 2005.
Vessel is ready for immediate inspection and delivery!
All details given in good faith BWG.
Price: USD $2,100,000.
Reduced Price! $1.9 million US