SORRY SHE IS SOLD
This particular vessel is no longer available HOWEVER we have other similar vessels that may suit your needs. Please fill up the contact form and tell us what you require and we will do our best to find your ship!
Vessel Reference Code: MWS#494
Vessel Type: Self Propelled Barge
Sub Type: New Build - Power Flat Top Barge
Stern Ramp installation possible to provide RORO capabilites at additional cost.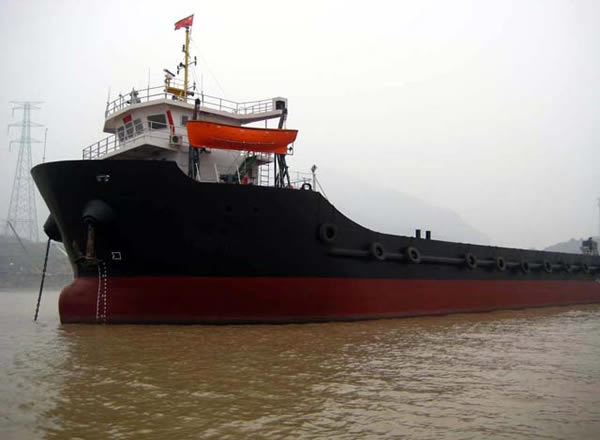 Max Loaded Draft:
4 m (13 ft.)
Molded Depth:
5.20 m ( 17 ft.)
Main Engines:
Weichai Heavy Machinery Co. Ltd. CW6200ZC-16
1000 RPM 350 KW (Two Engines / Two Shafts / Two Propellers) HP
Service Speed:
10 knots @ 3 TONs of diesel per Day
Auxiliary Engines /Generators: Prime mover:
TBD226B-6CD5
Maker:
Weichai Heavy Machinery Co. Ltd.
SS Survey:
Nov. 30th 2009
Navigational Equipment:
Full General navigational package
Vessel is ready for immediate inspection and delivery!
All details given in good faith BWG.
Price: $3.3 Mil. US