SORRY SHE IS SOLD
This particular vessel is no longer available HOWEVER we have other similar vessels that may suit your needs. Please fill up the contact form and tell us what you require and we will do our best to find your ship!
Vessel Reference #503
Ex Military Ship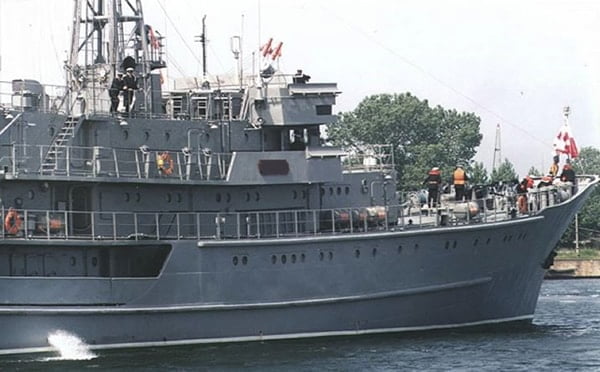 Displacement (empty):
1350 MT
Standard displacement
1490 MT
Full displacement
1745 MT
Max Loaded Draft:
4.1 m (13.4) Ft.
Main Engine Drive : 2 two-stroke Diesel engines Zgoda-Sulzer Brand 6td48 type produced in 1976 in Poland, run of 22†000 h, engines condition — very good
Nominal engines power:
2 x 1800 KM
Maximum engines power:
2 x 1980 KM
Amount of cylinders:
2 x 6 cylinders
Engine rotations:
225 rotations/min.
Fuel consumption at the nominal power:
2 x 170 g/KMh
Oil consumption at the nominal power:
2 x 1,5 g/KMh
Amount of power screws:
2
Range:
7800 nautical miles
Total capacity of fuel tanks:
about 300,000 liters
Dismantled Armaments:
2 double cannons AK-230 calibre 30mm
2 double cannons zu-23-2m calibre 23 mm
2 single salute cannons calibre 45 mm
1) There is possibility of putting the vessel in motion and providing it with single permission for a trip to the port of destination.
2) There is possibility of carrying out major repair along with rebuilding or coming back to the original structure of the vessel , i.e. assembling dismantled armaments or additional armaments according to the Buyer needs.
All details given in good faith BWG.
Price: 570,000 Euros