Vessel Reference #502
Ex Military Vessel Steel Ice Class 3
Web site: www.SeaWorthyShips.com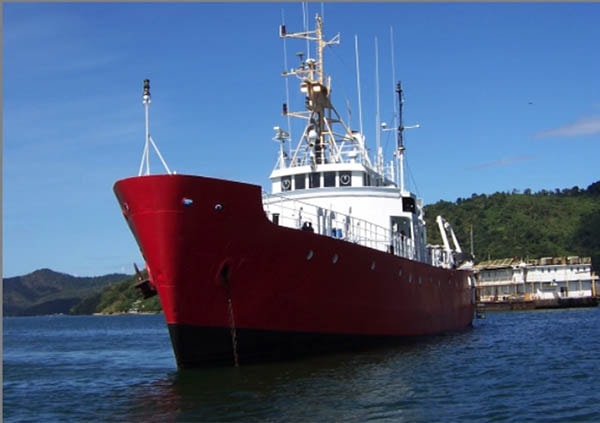 Rebuild: 1988-89 ( asbestos Free)The mid-life refit was truly a massive and expensive endeavor. At a cost of six million (1988) dollars, they stripped the ship of all but the hull and engines, and then rebuilt her.
This included:
Complete New Superstructure from boat deck upward
All New Accommodations
All new Fireproof doors & Water-Tight Hatches
Complete Stainless Steel Galley and Walk-in Cold room & Freezer
All Electrical Wiring and Service Panels
All Piping, Valves and Sea Boxes
Installation of Prime Moving Control Centers
Siemens Power Management System & Caterpillar Generator sets
Windlass, Anchors & Cables.
Max Loaded Draft:
3.32m(10'9) Ft.
Main Engines: Two Fairbanks Morse 1,280 BHP EACH rebuilt 1997-98 very low hours app. 1500 http://www.fairbanksmorse.com/marine_power.php
Service Speed:
15 /17 knots
Generators:
3 Caterpillar Each 215 kw 440v 60 cycle
Fuel Consumption:
55 US gallons per Hour
Fuel Storage Capacity:
Port tank 3,748.25 gal
Starboard tank 3,748.25 gal
Port centre tank 4,342.80 gal
Starboard centre tank 5,165.16 gal
Port wing tank 8,065.20 gal
Starboard wing tank 8,065.20 gal
Total 33,134.86 Imperial gallons
Fresh Water tank capacity: 68 tons
Accommodation Facilities:
16 single cabins (6 with private BR w/shwr)
3 double cabins
Exceptional galley (stainless steel, day fridge, walk-in cooler, walk-in freezer)
2 messes
2 Recreational Areas
2 Offices
Laundry
Stainless steel bakery/pantry
Last Dry-Docking:
September 2008
Navigational Equipment:
Large wheel house with separate large radio/chart room
Sperry Gyro Pilot (SRP 690)
Sailor VHF Type RT144B
Raytheon SSB (RAY 152)
Icom VHF Model M45
JRC Loran-C
Garmin GPS
Racal-Decca (BT502) Radar
Elac Depth Recorder
Autronica Fire Contol System
plus PMC Bridge & Wing Controls
Asking Price: USD $ 2,400,000
Extensive files and Complete "As Built Drawings" (blueprints) are on board the ship.
Vessel is ready for immediate inspection and delivery!
All details given in good faith BWG.